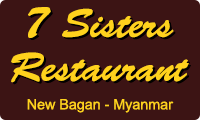 Menu à la carte
Among our most popular dishes, we would like to recommend the roasted duck (seasonal), steamed whole fish with lemon sauce, the Yunnan style dishes and our traditional Myanmar pickled tea leave salad "Lahpet Thoke".
Note: based on competition-related considerations, we prefer not to show the prices on the World Wide Web.
Set Menus
We offer set menus exclusively for travel agents.
See
Our reservation policy
for more information.
Questions?
If you have any questions about our menu, please feel free to contact us at
any time by email:
Back to top