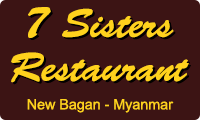 Reservation policy
Independent travellers
We seat independent travellers on a first-come, first-served basis. Unfortunately, we do not offer the possibility to make reservations for independent travellers.
However, even when all the seats in our restaurant are occupied, generally visitors don't have to wait more than ten to twenty minutes before seats are available.
Travellers accompanied by a Myanmar tour guide
To avoid dissapointments we advise travel agencies and Myanmar tour guides to make a reservation in person or by phone , especially when they plan to visit our restaurant with large groups.
Set menus
We offer set menus exclusively for travel agencies.
For more information about set menus, please send us an email:
Cancellation
If, for whatever reason, you need to cancel a reservation you have to inform us as soon as reasonably possible. From our side we may presume you automatically cancelled the reservation when you don't show up within half an hour after the agreed reservation time without notice.
For group reservations with set menus, additional purchases are made from our suppliers and part of the food will be prepared in advance. Should you need to cancel such a reservation less then twenty-four hours prior the reservation time, we reserve the right to charge a cancellation fee.
Changes to the terms
We reserve the right to modify this reservation policy at any time at our sole discretion and without any notice. Changes to this reservation policy become effective on the date they are published, but have no effect on previously made reservations.
Questions?
If you have any questions or concerns about this reservation policy, please feel free to contact us at any time by email:
This text was last modified on 24 March 2019.
Back to top