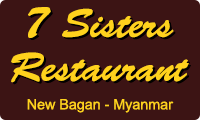 Reservation policy
Independent travellers
We seat independent travellers on a first-come, first-served basis. Unfortunately, we do not offer the possibility to make reservations for independent travellers.
However, even when all the tables in our restaurant are occupied, visitors generally do not have to wait more than ten to twenty minutes for a table to become available. To avoid having to wait for a free table, we recommend that you visit the restaurant during the high tourist season outside the popular times from one to two for lunch and from seven to eight for dinner.
Travellers accompanied by a Myanmar tour guide
To avoid dissapointments we advise travel agencies and Myanmar tour guides to make a reservation in person or by phone in advance, especially when they plan to visit our restaurant with large groups.
Phone number: or .
Set menus
We offer set menus exclusively for travel agencies.
For more information about set menus, please send us an email:
Changes to the terms
We reserve the right to modify this reservation policy at any time at our sole discretion and without any notice. Changes to this reservation policy become effective on the date they are published, but have no effect on previously made reservations.
Questions?
If you have any question or concern about this reservation policy, please feel free to contact us at any time by email:
This text was last modified on 13 August 2022.