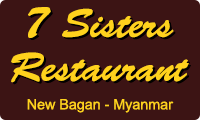 What our guests say
The Best Chicken Curry
After days of wondering around the temples, this was a great place to enjoy amazing food. Quite a touristy place, but does open quite late compare to other places. The Chicken Curry with potatoes was AMAZING, I even asked the recipe!! We went twice as we had so many other things to try on the menu!! Recommended
29 March 2020
Good Myanmar and Asian food. Not cheap to be a "local restaurant" but not a tourist trap. Nice ambiance and kind and attentive staff.
1 March 2020
Great Food, Amazing Staff!
29 February 2020
Nice
A very nice restaurant. Good food, extensive menu, fast service, and a nice atmosphere. For Myanmar, prices are definitely at the high end of the scale although reasonable for a tourist destination such as Bagan.
11 January 2020
good taste with romantic light
7 February 2020
Great place for food
Lovely staff, really great food and great service. Located right in new Bagan, I would definitely recommend for dinner!!!
5 January 2020
Nice food and helpful waitress
Nice food and helpful waitress ! We went this place for our CNY eve's dinner. I would say food here were really tasty and waitress would give good suggestion on the dish selections. We had fried chicken
25 January 2020
Cozy restaurant
The restaurant has excellent food and an extensive menu. Listen to the music there and the food will taste even better!
16 January 2020
Very tasty and Reasonable cost
15 January 2020
Excellent restaurant in Bagan!
It's not only esthetically beautiful, the food also is very good. As the other reviews, I can tell you that it's a little bit more expensive than Myanmar standards, but for me it's justified by the place and the quality. I suggest you to go there early in order to find a table. If you are in Bagan, you need to go there!
8 January 2020
Very good local food. We were 6 people and ordered 5 dishes which were quite enough. Location deserves a 10, however the prices are a bit on the high side. You will only find tourists dining here, so if you're looking for a "safe" local dinner it's a safe bet.
6 January 2020
Authentic Burmese food. Nice ambience
3 January 2020
charming, clean restaurant and bathrooms. Highly recommend
2 January 2020
Foods are good with reasonable price
1 January 2020
Happy family run restaurant!
This family run restaurant never disappoint us! Although very busy (people waiting outside for a table) they managed well during Christmas time. We had chosen their recommended steamed whole fish with lemon sauce which we liked very much. Beer is cold. Restaurant is clean and beautiful.
31 December 2019
My favourite place to eat in Bagan, we always had a great experience going there, good food and smiling staff.
30 December 2019
Lunch and Diner in Bagan.
This restaurant in New Bagan located in a busy tourist area of Bagan was truly the best eating establishment that I experienced during my visit to Myanmar. The expensive menu was full of both exotic local and western tastes. The female staff were friendly and knowledgeable. Also the clean layout and ambience was impressive.
29 December 2019
Best Tom Yum Soup we have ever had
Great food, lovely decor and brilliant service. We were very impressed with the quality and quantity of food and even more impressed with the bill. Definitely the best we ate at whilst in Bagan. Worth a visit!
29 December 2019
Delicious food
Had a nice dinner here with my partner. Of the 3 restaurants we ate dinner at in new Bagan this was easily the tastiest. Great friendly service and a warm open air setting.
27 December 2019
Our favorite!
We visited this restaurant for the first time in April and went back as soon as we were in Bagan again. In our opinion not only the most beautiful restaurant in Bagan, but also one with the best food and service!
27 December 2019
My favorite in town. Great service and great food!
20 December 2019
Great fresh & tasty food
Great food, fresh, tasty and large portions. A little more expensive than on the main road restaurants but worth it. Whole meal was $18AUS. Friendly staff & clean restaurant
18 December 2019
food is delicious
16 December 2019
Nice dinner
Nice dinner. Cheap and cute setting. Sweet and sour chicken, prawns, crispy chicken. Good size meals. Great atmosphere & cold beers
9 December 2019
Great food. Highly recommended. Food was well made and gracefully served. Wait staff had great recommendations. Do meet the 7 sisters who are all there in the evening. The set-up is also quite nice. Above average price point but worthy the indulgence
5 December 2019
Food is nice (just slightly salty) and the rest is perfect 👍🏻 - Strategic location, friendly staff, nice ambiance, and reasonable price.
2 December 2019
Lovely sisters
Located in New Bagan, in a very little road, there is this very nice place managed by a lovely staff. Many options for food. We ate very well and the service was super quick. Fair price
27 November 2019
Reliable
Have been a few times and reliable for consistently good food albeit at higher price but portions are good and large.
24 November 2019
really great atmosphere
Lovely place, friendly staff and a great atmosphere. It was busy, but the staff managed well. The food is more expensive than other restaurants around Bagan but the food is really nice and the portions are good. When you compare it to European prices, it's still very cheap. Would look at the menu before walking in if you are on a budget just so you have a rough idea of the pricing but I would 100% recommend
20 November 2019
Delicious meal
Ate curries and tea leaf salad - thoroughly enjoyed the food and atmosphere. Big restaurant run originally by 7 sisters. Would recommend
18 November 2019
Outstanding! Best food thus far in Myanmar. Terrific tea leaf salad. Great atmosphere
16 November 2019
came here due to the high ratings and they did not disappoint! food is on the higher price tag but is served in a large portion (a plate of fried noodles can accommodate two stomachs). a comfortable dim lighting environment.
4 November 2019
Restaurant ambience, serving by staff, food taste was excellent.
3 November 2019
Myanmar cuisine and a nice atmosphere
Nice atmosphere. Large outdoor seating area with heavy, wooden throne chairs. Reasonable prices. Juices 2900 Ks. Myanmar curries 4900 Ks. Choices of Chinese, Thai, and Myanmar cuisine. Caters to tourists. Comfortable place to chat, relax, and share a meal with friends.
28 October 2019
Nice place, tasty food, more expensive
This was the most expensive but also the fanciest place where we were eating in Bagan. The food was tasty and the staff friendly and helpful. Portions were good. It's a place for tourists, and so were all the guests (no negative point 😄). If you're on a tight budget, this place is not for you, except you have something to celebrate :). But if you don't mind, this place is a must-visit.
Pros: Nice atmosphere, Tasty food, Friendly staff
Cons: More expensive compared to others
25 October 2019
Great Taste!
15 October 2019
Great looking. And superb taste.
Good option for lunch or dinner. Very nice experience with absolutely great taste of kitchen chef. We had tea leave salad and some vegetarian fry. As for the pricing is bigger than neighborhood but still an Asian reasonably. Recommended if you would like to have chill out time and great taste.
14 October 2019
Excellent food....great staff
I spent 6 nights in Bagan last September-2019-and dined here each evening-sometimes at lunchtime too.The food is excellent-try the Myanmar beef curry.Portions are generous and service is prompt and friendly...One of the great reasons to visit this place is the friendly staff-After my first visit they knew me and were quite happy to offer me something complimentary at dinner-spring rolls on one occasion,french fries on another...Prices are very reasonable here and this is a lovely dining experience-clean,relaxing and welcoming...Worth a return visit...Definitely worth 10 out of 10
12 October 2019
Magical!
We had a beautiful meal in the 7 Sisters Restaurant. The food was great! The outdoor setting was amazing and the lights on the trees was magical. The staff were so friendly and welcoming.
9 October 2019
Spiciest meal on Earth
3 October 2019
Good food. Should try!
We had mixed vegetables salad, hot and sour fish, Shan style prawn which are all good (fish less oil would be perfect)
27 September 2019
Favourite in New Bagan
We came back twice! Staff remembered us and gave us complimentary vegetable spring rolls and ice-cream for dessert! Kids loved the curry and very tasty fried rice. Big portions. And friendly staff. We highly recommend!
24 September 2019
Excellent
Ended up here on a Tuk Tuk driver recommendation and ended up going back twice. Food was always tasty and portions huge. The sisters are so friendly and provide a fantastic service.
16 September 2019
Cozy place
Excellent food, and a cozy restaurant in Bagan. Found it through tripadvisor also. Nice staff and a friendly environment. Recommended
9 September 2019
The food is delicious.
7 September 2019
Beautiful place, good foods but prices it little higher than restaurants near by
4 September 2019
Nice and quiet. The service is really good and the food tasty. They even offered us an appetizer because we came back.
29 August 2019
Have a quiet environment and great to chill with friends and family. Can get wide range of dishes and various beverages including alchohol. It a excellent place to have dinner with colleagues.
22 August 2019
Excellent
Excellent food and very nice waitresses in the heart of Bagan. Best restaurant we have tried so far, would definetely go back. Highly recommended!
20 August 2019
Delicious food in a beautiful interior. Coconut rice and fried kale were amazing.
26 July 2019
Smile of the staffs and good taste foods. I love the restautant!
12 July 2019
Nice spot
We went here for lunch the food is good and the staff are nice. The location is in new Bagan in one of the side roads.
29 June 2019
The best!
this restaurant has the best food and tasty the restaurant is very clean too and a very nice building the waiters are very sweet if I go there again I don't want to miss this restaurant kyaw mon khin is the best waiter and my favorite
20 June 2019
Good taste.
16 June 2019
Very good service and great Myanmar food
19 May 2019
Authentic cuisine, great taste and ambience. Mind you, for some dishes, they've enormous portions
17 May 2019
Very good food and extremely clean! Perfect for European people in Myanmar (it also has WiFi)
4 May 2019
Really nice dinner!
The fried rice with beef and the fried noodles with chicken where all of our favourites, worked for children and adults. Was close to our hotel and was very convenient. Lovely lighting and wasn't hot. Alright service, English wasn't amazing but managed to order and get all the right food. Would recommend this to families. Really good!!
10 April 2019
Local dishes served with a smile
The menu has a wide range selection of dishes and we opted for Burmese cuisine consisting mainly of noodles, rice and meat. Well presented in a timely manner but mainly the service was top notch, efficient and friendly. There is outside seating among vegetation or inside under a very high pagoda style ceiling. We have eaten in more expensive restaurants but this one tops them in price, atmosphere and quality of food. Highly recommend.
6 April 2019
We limit the number of reviews to those originally written in English and that are not older than one year.
Due to the Corona COVID-19 virus crisis, our restaurant is closed until further notice.
As a service to our customers we continue to sell takeaway.

You will be informed on this website as soon as the restaurant is reopened again.
We apologize for any inconvenience or disappointment this may cause.