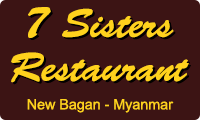 What our guests say
Great Taste!
15 October 2019
Great looking. And superb taste.
Good option for lunch or dinner. Very nice experience with absolutely great taste of kitchen chef. We had tea leave salad and some vegetarian fry. As for the pricing is bigger than neighborhood but still an Asian reasonably. Recommended if you would like to have chill out time and great taste.
14 October 2019
Excellent food....great staff
I spent 6 nights in Bagan last September-2019-and dined here each evening-sometimes at lunchtime too.The food is excellent-try the Myanmar beef curry.Portions are generous and service is prompt and friendly...One of the great reasons to visit this place is the friendly staff-After my first visit they knew me and were quite happy to offer me something complimentary at dinner-spring rolls on one occasion,french fries on another...Prices are very reasonable here and this is a lovely dining experience-clean,relaxing and welcoming...Worth a return visit...Definitely worth 10 out of 10
12 October 2019
Magical!
We had a beautiful meal in the 7 Sisters Restaurant. The food was great! The outdoor setting was amazing and the lights on the trees was magical. The staff were so friendly and welcoming.
9 October 2019
Spiciest meal on Earth
3 October 2019
Good food. Should try!
We had mixed vegetables salad, hot and sour fish, Shan style prawn which are all good (fish less oil would be perfect)
27 September 2019
Favourite in New Bagan
We came back twice! Staff remembered us and gave us complimentary vegetable spring rolls and ice-cream for dessert! Kids loved the curry and very tasty fried rice. Big portions. And friendly staff. We highly recommend!
24 September 2019
Excellent
Ended up here on a Tuk Tuk driver recommendation and ended up going back twice. Food was always tasty and portions huge. The sisters are so friendly and provide a fantastic service.
16 September 2019
Cozy place
Excellent food, and a cozy restaurant in Bagan. Found it through tripadvisor also. Nice staff and a friendly environment. Recommended
9 September 2019
The food is delicious.
7 September 2019
Beautiful place, good foods but prices it little higher than restaurants near by
4 September 2019
Nice and quiet. The service is really good and the food tasty. They even offered us an appetizer because we came back.
29 August 2019
Have a quiet environment and great to chill with friends and family. Can get wide range of dishes and various beverages including alchohol. It a excellent place to have dinner with colleagues.
22 August 2019
Excellent
Excellent food and very nice waitresses in the heart of Bagan. Best restaurant we have tried so far, would definetely go back. Highly recommended!
20 August 2019
Delicious food in a beautiful interior. Coconut rice and fried kale were amazing.
26 July 2019
Smile of the staffs and good taste foods. I love the restautant!
12 July 2019
Nice spot
We went here for lunch the food is good and the staff are nice. The location is in new Bagan in one of the side roads.
29 June 2019
The best!
this restaurant has the best food and tasty the restaurant is very clean too and a very nice building the waiters are very sweet if I go there again I don't want to miss this restaurant kyaw mon khin is the best waiter and my favorite
20 June 2019
Good taste.
16 June 2019
Very good service and great Myanmar food
19 May 2019
Authentic cuisine, great taste and ambience. Mind you, for some dishes, they've enormous portions
17 May 2019
Very good food and extremely clean! Perfect for European people in Myanmar (it also has WiFi)
4 May 2019
Really nice dinner!
The fried rice with beef and the fried noodles with chicken where all of our favourites, worked for children and adults. Was close to our hotel and was very convenient. Lovely lighting and wasn't hot. Alright service, English wasn't amazing but managed to order and get all the right food. Would recommend this to families. Really good!!
10 April 2019
Local dishes served with a smile
The menu has a wide range selection of dishes and we opted for Burmese cuisine consisting mainly of noodles, rice and meat. Well presented in a timely manner but mainly the service was top notch, efficient and friendly. There is outside seating among vegetation or inside under a very high pagoda style ceiling. We have eaten in more expensive restaurants but this one tops them in price, atmosphere and quality of food. Highly recommend.
6 April 2019
Nice restaurant
We tried this restaurant and it was very good. Smiling and charming service, spacious and clean, good food and right price.
5 April 2019
Lovely lunch
The setting is very nice. Menu consist of local food, chinese and western. Staff is kind, they served us really quick and food was tasteful.
5 April 2019
Just delectable local dishes with happy service
What else do you need. Moderately priced. Clean and lovely setting under old wooden 'pagoda' style shelter. Good mix on the menu of Western, local and other Asian cuisines for all tastes. Try the tea leaf salad and local fish curries. The homemade ice cream was also yummy.
3 April 2019
Very good!
The restaurant is very beautiful, quiet location, nice and kind staff and very good food! I recommend!
26 March 2019
Beautiful dinning area and nice staff.
20 March 2019
Loved This Restaurant!
This place has a great atmosphere with friendly staff and amazing food. We came here looking for Chinese food and were not disappointed. The prices are cheap, service is fast, and food is great.
14 March 2019
Very nice, relaxt but very big portions 🤓nice to kids too!!
14 March 2019
Surpassed expectations
Good variety great lentil/ginger soup. Never had before. Like pea soup. Clean and good service. Ambiance and solid Burmese menu as well as Thai and Chinese.
2 March 2019
good place
Gluten free options and very good place. Nice and warming restaurant. Kind staff. Ice and water purified. wifi.
19 february 2019
Yum yum
Lovely setting, music could be more traditional than western. Really enjoyed the yunnan beef dish, super tasty and staff very welcoming.
11 february 2019
Great food and nice atmosphere
The environment is quite nice and the food were great! We've ordered a spicy stir fried vegetable, a traditional vegetable soup, Myanmar style curry chicken and fried rice. The soup was spicy and delicious.
9 february 2019
Dinner
We had dinner at this place. We found it in the lonely planet and the place was filled with tourist and no local people. But the menu was great and affordable and a nice setting. Service was very friendly and the food was good.
9 february 2019
Half open Restaurant, very nice service, regular burmese food.
8 February 2019
Ok food and service
8 February 2019
Family Run Authentic and Romantic
Even though I was a solo traveller, the atmosphere was romantic in the sense that the bamboo roof was dripping with lanterns and fairy lights, giving the restaurant a magical, sub-tropical feel. The staff are all locals or family members and were without exception, friendly and helpful. I spoke to Sister no 2 who explained about the history of the restaurant and how much of the vegetables come from the family farm. I ate a fish curry with rice washed down with some Myanmar wine, which is surprisingly good and great value. The restaurant is tremendous value for money, simple fare, served with warmth and friendliness - whether you are a couple, family or like me a solo traveller, you will be made incredibly welcome.
6 february 2019
Excellent food and Great service. We went for dinner and the place looks pretty.
4 february 2019
Best restaurant in Bagan. Everybody was so nice including the owner. They really take care of their business and customers.
3 February 2019
Bagan, Myanmar
Very nice, friendly staff, many kind of food, clean, very good food. Area quiet, good English. I suggest from my heart.
29 January 2019
great taste of fried chicken
28 January 2019
Very nice place.
26 January 2019
I highly recommend it!!!!
Bagan was my last visiting point in Myanmar. And this restaurant was the first I saw with GLUTEN FREE OPTIONS!! Is difficult to explain what's gluten free in Myanmar...so I felt totally relaxed. "Ni ni",the second of the seven sisters is a wonderful person...thanks for your warming welcome!!! Taste? Very good! Like at home!!!! So we came back with my friends the following day...i'll miss this restaurant.
16 January 2019
Good restaurant, nice foods are pleased to enjoy after long ebike trip around the city of temple.
16 January 2019
Good food
15 January 2019
Lovely meal
First restaurant we tried and it's conveniently located next to the spa massage street of New Bagan. So after our massage we enjoyed a lovely meal with an equally lovely beer. Excellent service. We tried an interesting tamarind leaves salad and the soups and rice dishes were very good.
14 January 2019
Food very nice
10 January 2019
Great meal
This was one of our favorite meals in Myanmar. We ordered the spring rolls, guacamole, steamed fish with lemon sauce, vegetable curry and cucumber salad. All of the dishes were incredible. The wine list is limited to local wines, but plenty of beer options on the menu. The atmosphere is nice, relaxed and beautiful. Definitely recommend.
31 December 2018
Good food and good service Really taste is good
30 December 2018
Delicious food with good ambience
We stumbled upon the sign board at one of the junction while walking around our hotel at New Bagan. It is located at one of the smaller road near the residential areas of New Bagan, but not too difficult to locate using Google Map. We ordered Burmese beef curry, Tomyam soup, papaya salad, stir fried water crest with mushroom, etc. Total damage was 23,500 Kyat. All the dishes were appetising and delicious. Restaurant is decorated with lightings which gives good dining ambience. This restaurant is originated and run by siblings of 7 sisters and 2 brothers. We were even served by the second generation of 7 sisters - a daughter of the eldest sister. Highly recommended based on good food and ambience, with reasonable price.
27 December 2018
Staff is excellent and very friendly. They speak a very good English. Food was pretty good. Quality and Ambiente is good too! Prices are a bit higher than average. We enjoyed our stay in 7 Sisters
28 December 2018
I came here feeling a little under the weather and ordered well with friend chicken, vegetable noodles, Shan style pawns and an omelette. The food was the best I have eaten in Myanmar so far.
27 December 2018
Delicious !!!
Wonderfull restaurant in New Bagan. Tried all the Myanmar typical dishes on the menu. Rich of flavours and well prepared !! Super friendly staff and good service.
11 December 2018
YOU MUST EAT HERE
Hi, my wife and I usually like to try different restaurants and food when we traveled, however, on a 4 days trip in Bagan, we visited 7 sisters 3 times. That's how good their food is. Their traditional Myanmar curries are amazing! Staff was very very friendly! Price is usually 1-2$ higher per plate than other restaurants in the area but it is totally worth it. Please do not leave Bagan without visiting 7 Sisters.
27 November 2018
A beautiful place for both locals and foreigners
We had lunch and dinner for two days straight. Fantastic curry and soup. Their avocado icecream is a must. Staffs are very friendly. Surprised us with fruit pancake for coming by three times. Dinner for two people only costed 18500 MMK. We both enjoyed it.
24 November 2018
Fresh and tasty seafood salad
24 November 2018
Nice place for relaxation.
22 November 2018
Great Restaurant in Bagan
I just had lunch here. Unbelievable Tom Yam Soup with Prawns. And fantastic pork curry. Warmly recommend! Nice ambience too.
18 November 2018
Great food and service, would highly recommend...Went there on mothering Sunday... Everything perfect. Such friendly staff.
14 November 2018
Great food, nice atmosphere
12 November 2018
Best food in Myanmar
Live up the rave for me, the foods are good (best tea leaf salad), the place is clean and spacious, staff are friendly and nice. Price is a bit higher compare to restaurants around, but the above reason mentioned above justify it for me. Recommended to go to this restaurant.
10 November 2018
Great food and friendly staff
The food was really tasty here and the staff were friendly. I would recommend going there, they have vegetarian options too.
6 November 2018
Great service and food.
I chose 7sister to eat the first dinner when in bagan. Really great space with gentle golden light, the sisters serve very agile and lovely. The food was good to me although I had heard about hard to eat in Myanmar at first. After that night, I came back to have dinner here and 7Sister thanked us for continuing to select them.
6 November 2018
Great food and friendly staff
The food was really tasty here and the staff were friendly. I would recommend going there, they have vegetarian options too.
6 November 2018
Very nice meal and service. Quite a large restaurant but seemed well able to cope. We went early about 1800 when it was nice and quiet. It soon started filling up.
2 November 2018
Amazing food!
Very friendly and english speakers staff. It is a familiar restaurant with an excellent atmosphere. It has an pretty decoration. And it has an "normal" bathroom. The food is amazing. It has vegetarian, Birmanese, Chinese and Indian options. I highly recommend.
28 October 2018
Great service, great food, giant portions, beautiful hall
We spent four nights in Bagan and visited the restaurant four times (hope to come there tomorrow before leaving for Inle Lake too), well, three times dining there, one take away to be eaten at the hotel. Being vegan, we found it tricky to be able to explain our preferences in other places, so it was such a relief that waitresses understood our requirements straight away and we had delicious noodles, rices with vegetables and tofu (no egg), soups, lovely Burmese salads (my favourite is tomato salad, but cucumber is great too!). Ginger tea is the best I've ever tried - and I've tried a lot of them. Prices are slightly higher than elsewhere, but still of Burmese level + you get giant portions + they use only filtered water in their cooking and quality of food is amazing. So you pay extra for quality and safety really. Service is superb, non-obtrusive, yet waitresses and manager are always there when you need them and do great job looking after their clients. They even served us a dessert (fried bananas, rather than pancakes, as the manager remembered that we were vegans) on our fourth visit. When my partner felt poorly (not because of their food!), the manager arranged a taxi and brought ice and a lime and then the following day enquired how she was. So thoughtful and attentive!
22 October 2018
Nice
21 October 2018
We only show reviews that are less than a year old and originally written in English.
Back to top