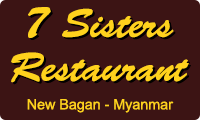 What our guests say
Delicious !!!
Wonderfull restaurant in New Bagan. Tried all the Myanmar typical dishes on the menu. Rich of flavours and well prepared !! Super friendly staff and good service.
11 December 2018
YOU MUST EAT HERE
Hi, my wife and I usually like to try different restaurants and food when we traveled, however, on a 4 days trip in Bagan, we visited 7 sisters 3 times. That's how good their food is. Their traditional Myanmar curries are amazing! Staff was very very friendly! Price is usually 1-2$ higher per plate than other restaurants in the area but it is totally worth it. Please do not leave Bagan without visiting 7 Sisters.
27 November 2018
A beautiful place for both locals and foreigners
We had lunch and dinner for two days straight. Fantastic curry and soup. Their avocado icecream is a must. Staffs are very friendly. Surprised us with fruit pancake for coming by three times. Dinner for two people only costed 18500 MMK. We both enjoyed it.
24 November 2018
Fresh and tasty seafood salad
24 November 2018
Nice place for relaxation.
22 November 2018
Great Restaurant in Bagan
I just had lunch here. Unbelievable Tom Yam Soup with Prawns. And fantastic pork curry. Warmly recommend! Nice ambience too.
18 November 2018
Great food and service, would highly recommend...Went there on mothering Sunday... Everything perfect. Such friendly staff.
14 November 2018
Great food, nice atmosphere
12 November 2018
Best food in Myanmar
Live up the rave for me, the foods are good (best tea leaf salad) , the place is clean and spacious, staff are friendly and nice. Price is a bit higher compare to restaurants around, but the above reason mentioned above justify it for me. Recommended to go to this restaurant.
10 November 2018
Great food and friendly staff
The food was really tasty here and the staff were friendly. I would recommend going there, they have vegetarian options too.
6 November 2018
Great service and food.
I chose 7sister to eat the first dinner when in bagan. Really great space with gentle golden light, the sisters serve very agile and lovely. The food was good to me although I had heard about hard to eat in Myanmar at first. After that night, I came back to have dinner here and 7Sister thanked us for continuing to select them.
6 November 2018
Great food and friendly staff
The food was really tasty here and the staff were friendly. I would recommend going there, they have vegetarian options too.
6 November 2018
Very nice meal and service. Quite a large restaurant but seemed well able to cope. We went early about 1800 when it was nice and quiet. It soon started filling up.
2 November 2018
Amazing food!
Very friendly and english speakers staff. It is a familiar restaurant with an excellent atmosphere. It has an pretty decoration. And it has an "normal" bathroom. The food is amazing. It has vegetarian, Birmanese, Chinese and Indian options. I highly recommend.
28 October 2018
Great service, great food, giant portions, beautiful hall
We spent four nights in Bagan and visited the restaurant four times (hope to come there tomorrow before leaving for Inle Lake too), well, three times dining there, one take away to be eaten at the hotel. Being vegan, we found it tricky to be able to explain our preferences in other places, so it was such a relief that waitresses understood our requirements straight away and we had delicious noodles, rices with vegetables and tofu (no egg), soups, lovely Burmese salads (my favourite is tomato salad, but cucumber is great too!). Ginger tea is the best I've ever tried - and I've tried a lot of them. Prices are slightly higher than elsewhere, but still of Burmese level + you get giant portions + they use only filtered water in their cooking and quality of food is amazing. So you pay extra for quality and safety really. Service is superb, non-obtrusive, yet waitresses and manager are always there when you need them and do great job looking after their clients. They even served us a dessert (fried bananas, rather than pancakes, as the manager remembered that we were vegans) on our fourth visit. When my partner felt poorly (not because of their food!), the manager arranged a taxi and brought ice and a lime and then the following day enquired how she was. So thoughtful and attentive!
22 October 2018
Nice
21 October 2018
Great food , lovely staff
We spent 5 nights in Bagan and ended up coming back to this restaurant several times due to the excellent service and wonderful food. As we had visited a couple of times the staff acknowledged this with a beautiful desert on the house!
11 October 2018
Great!!!
Lovely decor, cozy atmosphere. I am totally in love with this restaurant. You must visit it and try Myanmar traditional salad. So so yummy
10 October 2018
Vacations
Excellent and pleasure Restaurant in Bagan. I love their services and kindly help for solo visitor. See u coming back again.
3 October 2018
Amazing restaurant, definitely on the expensive side but dishes are amazing! Get the sweet and sour beef!
1 October 2018
Lovely place with fast and friendly service. The food is very good and the price is reasonable.
28 September 2018
Wonderful
We had dinner here four nights! The restaurant is open, and airy, and the service is wonderful. The vegetable dishes are delicious and well presented.
10 September 2018
Love it
23 August 2018
Best food far and wide. Excellent Burmese, thai
23 August 2018
We had sweet and sour with vegetables and sweet and sour with chicken and both were tasty. The menu is large and vegetarian-friendly. Free Wifi is available (although we didn't try it) and you can pay in Euros and/or Dollars.
16 August 2018
Good Taste, Fair price.
16 August 2018
Such good curry!
An open air restaurant with the best curries ever! We ordered the eggplant curry and it was one of the best dishes we had in Bagan. It is down a shady path so bring a flashlight. If you eat at night, wear insect repellant as you might get bit.
30 July 2018
Good place
28 July 2018
Superb
Enjoyed the atmosphere and service. We had a variety of dishes based on local styled cooking. Very tasty and highly recommendable. Excellent service with a smile.
28 May 2018
Best chicken fried rice
Have to say, this restaurant really does do an amazing chicken fried rice... I asked for their special sauce too, and that was just the icing on the cake! Staff are so lovely too, asked us if everything was okay and if we needed anything else...
6 May 2018
Very Tasty!
Lovely food, couldn't fault it, I had the prawn spring rolls which were so good and the chicken friend rice, simple and good. The restaurant was easy to find. The staff were friendly. The place was busy when I was there. Would definatly recommended going.
22 April 2018
Good food and happy smiley staff!
9 April 2018
Tasty food
This restaurant is in the convenient area of new Bagan where you can get a number of restaurants surrounded. The settings up is nothing special but the food is very tasty and delicious. We tried the tea leaves salad and Thai Tom Yum spicy soup. Both of dishes were good. The service was good also.
4 April 2018
Best food I had in Bagan
Had the whole fish, pennywort salad and iced tea... it was great and the staff are really friendly!
4 April 2018
Genuine Myanmar Cooking
It's a true fact, the restaurant own and run by the sisters, we met few there that evening, one morning we were doing a half day tour in a car and spot the restaurant, decide to have dinner here, order steamed whole fish with lemon, chicken curry and mix vegetables, we were satisfy with the food, like to try local food whenever we travel, play native for few days.
26 March 2018
Great authentic Burmese food
22 March 2018
Wonderful atmosphere in evening time
12 March 2018
Nice restaurant with good and varied menu
25 February 2018
Very good food
we had steamed fish wrapped in banana leave and the minced meat. very good and really nice location. thanks for a perfect dinner...
20 March 2018
Pleasant place to eat and just hang out for a break from the sun. Food was tasty and so were the drinks. Staff were very attentive and service was good.
18 March 2018
Great restaurant
Stayed in Bagan for 3 nights, and ate here 3 times, once for lunch and twice for dinner. It was close to our hotel so easy choice after a long day out, but we loved every meal. Nice atmosphere, attentive staff, food you could not fault. The fried rice was the best I have tasted in Asia, and the Myanmar chicken and potato curry was so delicious I could have ordered it again straight after eating! Average prices and really good value for money!
5 March 2018
Great food
Great food, I had the Yunnan style beef. Pork curry was also great. Prepare for lots of garlic though ;). Very friendly staff as well and a relaxing and welcoming atmosphere. Wifi is also quite good for Bagan standards.
2 March 2018
Our Favourite in Bagan
Our favourite restaurant in Bagan. Once we tried it we didn't go anywhere else. We stuck mostly to Chinese dishes and thought their beef with ginger and spring onions and their sweet and sour pork were delicious. The portions were very large and the prices extremely reasonable. The surroundings are pleasant with a good atmosphere.
28 February 2018
Friendly staff with many choice and tasty food!
23 February 2018
You can enjoy a very local mymmar meal here
23 February 2018
Quite touristy, but in a good way. Nice Asian food, atmosphere cool on hot days. Ice cubes made with purified water, juices nice. Overall a safe bet, you pay for what you get.
18 February 2018
Good Choice of Dishes
Busy restaurant with a good selection of Asian and Western dishes. Service was efficient but friendly and the restaurant had local character. Food was good though it lacked spice and was cooked for a western palate. Would visit again if we are in the area.
15 February 2018
Best Restuarant in New Bagan
A restaurant run and owned by 7 sisters and staffed by their 7 nieces and young Bagan persons. Atmosphere is relaxed and staff are well presented and versed in service. All owners keen to chat and make you feel at home in their Pavilion style dining area. I had the pleasure of Nini- [sister 2 I believe] at one even meal and was fortunate to here of their passion for their restaurant and how they are helping some of the locals to join the hospitality area and make good wages in a new market. The food is fresh well prepared and very tasty. The whole concept and what they are achieving is exceptional as is the experience of dining at- The 7 SISTERS , Bagan.
11 February 2018
Excellent
Lovely place, very clean and confortable. Staff are kind and helpful. The food was delicious. Nice choices of beers (rare in Myanmar)!
10 February 2018
Great ambience and variety of foods!
10 February 2018
Nice food
A friendly relaxed restaurant, with a menu that offers a good choice of local and international food, which tastes delicious.
9 February 2018
Good place to eat, relax and enjoy the atmosphere of the restaurant. Would definitely recommend it.
1 February 2018
Good food with option for Vegetarians and people with intolerances. Excellent service and place built following the Bagan tradition. A bit expensive compared to Myanmar prices but it worth!
31 January 2018
The Authentic Myanmar Restaurant with infused dishes in Delicacy
29 January 2018
Great food, great ambiance
What a find! This place is great...the food, the staff....nothing but good things to say! We enjoyed it so much, we ate there two out of the 4 nights we had in Bagan. I highly recommend this restaurant!!
28 January 2018
Good value
This is a nice open air restaurant on a quiet street. The menu is diverse and the portions are generous. Vey affordable, pleasant. Lots of foreigners
28 January 2018
Highlly Reccomended
We had family dinner twice there, which is unusual since we like to try different places. First time following hotel recommendation, but we unanimously decided to come back the next day. Very friendly and competent service, some of the seven sisters are always there, making sure everything is perfect. The food selection will satisfy everybody, whatever we ordered was tasty and reasonable priced. Try the traditional Myanmar pickled tea leaves salad, is delicious.
26 January 2018
Recommended
Went to this restaurant by the recommendation of our hotel. Good location, food ok and good service.
22 January 2018
Fried noodle from this place is the best in whole Bagan
22 January 2018
Great place, a lot of different flavour. We enjoyed both times we went there.
21 January 2018
good vegetarian options
Great food and friendly service, a few of the 7 sisters were there and they are all very nice. There were several good vegetarian options on the menu and a selection of wine and beer (which isn't always easy to find in Myanmar). The restaurant is open air and has a distinctly Burmese look. A great stop in New Bagan
19 January 2018
Delicious food and very kind staff
We stopped here for breakfast on our way back from sunrise. Food was delicious, especially the chicken salad. The staff were very kind and sweet. We asked our server to not use a lot of oil while cooking our eggs and although she seemed to understand us she came back a couple minutes later with another young lady who spoke excellent english to make sure she understood our request properly. The rest of the service was excellent as well and staff were genuinely kind and friendly. We are thinking to go back for dinner so we can try more of the menu!
18 January 2018
Excellent food, excellent service, excellent prices
Be carefull when you order fried potato chips - they are crisps. Order the fried potato if you want chips/fries! The prices were very good and the food clean and of excellent quality
15 January 2018
Best food in Myanmar
Usually I never do that on a trip, because I like to try new and different places, but I came back 4 times for their delicious food. The place is very nice, the waitresses and owners very friendly and the food is just amazing. Simple, well done and very tasteful. Everything we had was great, the chicken curry, tamarind chicken, corn and lentil soups, spring rolls and veggie plates. The coconut jelly cake was also a pleasant surprise! Don't miss it if you are in Bagan, it really worth it.
15 January 2018
Dank food bro
Spicy mixed vegetable salad rocked my world (and your mom's as well). Green curry with vegetables also was dumb lit. Perfect meal for a savage who needed a temporary break from the meat sweats!
13 January 2018
Good quality food and reasonable prices
This was actually a very pleasant surprise as it was of higher quality than many of the restaurants voted higher in TA.I though there was a bit more finesse to the food compared with many of the other restaurants in old bagan
13 January 2018
Great restaurant in Bagan
The restaurant is so pretty in the evening when you visit. Lights in the trees and a nice clean restaurant that is open to watch the world go by. The staff is very attentive and the chicken curry was wonderful. Be sure to get a pot of jasmin3 tea. Can't wait to come back again.
12 January 2018
Very good food, immaculate restaurant
I came here for lunch and this is an immaculate, modern restaurant in New Bagan, by far the best I have come across so far in Myanmar. I had the pickled tea leaf salad which tasted fresh and spicy. Then I had the chicken with basil leaf, spicy with lots of basil, and plain vermicelli which could have been better. Overall a very enjoyable meal. The one thing I would say is that all three dishes came together, so if you want a starter first and then the main course ask.
9 January 2018
Nice tourist resto in Bagan with local & western food.
Got there after the lunch rush so fast, attentive service. I had a chicken curry with rice & my wife had pasta carbonara. The curry was tasty & the carbonara was a bit different than what we were used to but still very tasty. Overall good value for what we got, would have no problem eating there again if in town.
8 January 2018
The Sisters are doing it right!
The food here was wonderful and the setting couldn't be better. The staff was very attentive and the tasty food came quickly. I would highly suggest this restaurant to any friend that will visit Bagan. Thanks for the excellent lunch 7 Sisters
6 January 2018
Delicious meal and great service
We had a great meal and enjoyed the great service of the sisters. The price is super reasonable. We will go again!
6 January 2018
Great evening
Fairly large airy, well set out 'modern' restaurant with a good menu. Food was very good and the service was excellent - when our driver failed to appear after dinner the boss (one of the 7 sisters) took control of everything, contacted our hotel who then contacted our driver who arrived 20 minutes late.
4 January 2018
Very good food, excellent value
This place is a must if you like local cuisine at a reasonable price in a friendly environment. The menu is extensive so you will definitely find something that you like, regardless of your tastes and dietary restrictions. You also get to support a truly family run business and, if you are lucky, you will get to know all the 7 sisters!
2 January 2018
Amazing food :) very tasty gin sour. This is great please for testing delicious dishes... every evening you can try something new :)
2 January 2018
Wonderful
Fabulous little restaurant in Bagan. By far one of the best in Bagan. Run by 7 sisters who are passionate and provide genuine warmth and hospitality. The food is superb almost a year on we still talk about this restaurant.
2 January 2018
Nice local food
We tried to have dinner here on New Years's eve, but it was fully booked. So, tonight we decided to go a bit earlier than usual dinner and we could enjoyed a nice local meal. There 's plenty of options in the menu, even a few international dishes. Prices are quite cheap, but that's common for Myanmar if you go for local food. Service was quite fast despite the busy evening and the atmosphere pleasant.
1 January 2018
Food was amazing, had the Tamarind & Cashew nut chicken, so yummie. Despite being full, food came super quick. Prices are reasonable
31 December 2017
Great food
In dusty Bagan this place offers clean dining experience off the busy streets. We are family with 2 kids (8 and 11). We stopped for a lunch here and shared several plates of the local cuisine- tea leaf salad, meet, vegetable and rice. It was all very good, one of the better experiences while traveling the country. They also try to avoid ingredients like MSG, which can explain higher prices than your average stand at the road. The service was very professional and friendly.
30 December 2017
Great Christmas Eve dinner
Came here to avoid the BS $78 fixed price dinner at our hotel. Super friendly staff, HUGE menu with great vegetarian options, and delicious mango and coconut ice cream for dessert. A memorable Xmas eve dinner
27 December 2017
Good ambience
One of the waitress can speak very good English and we managed to understand Bagan more from her.
26 December 2017
We only show reviews that are less than a year old and originally written in English.
Back to top