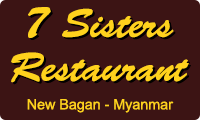 Awards
TripAdvisor Travelers' Choice 2016-2020
We have received a TripAdvisor Travelers' Choice (formerly Certificate of Excellence) five years in a row based on the consistently great reviews we have earned on TripAdvisor.

HappyCow
We are recognised by HappyCow's Healthy Eating Guide since March 2019 as a restaurant which serves genuine vegetarian and vegan dishes.

Culture Trip
Our restaurant has been selected in March 2018 by blogger Chase Chisholm as one of the ten best restaurants with great reviews in Bagan.

Lonely Planet travel guide
The restaurant is included in the New Bagan section of the latest 13th edition (July 2017) of the world's best-selling Lonely Planet - Myanmar (Burma) travel guide.
"Although it sounds like the title of a fairy tale, the restaurant is indeed run by seven sisters, who do a fine job cooking up prawn curry, Yunnan-style chicken, fried tofu with mushrooms, roast duck and many other dishes of Thai, Chinese and Burmese origin. Set with teak pillars, fine woodwork and a soaring ceiling, the space resembles a Buddhist adoration hall, and tea lights add to the magic in the evening."
It's a great privilege to be mentioned together with only eight other restaurants out of the many dozens of restaurants in New Bagan.

Culture Trip
Kelly Iverson has labeled our restaurant as some of the best restaurants in town in July 2017.

Hotbook Newspaper
Our restaurant has been recommended in a travel article in the May 2017 edition of the Hotbook Newspaper.
The Hotbook Newspaper is a monthly publication that reflects the sophisticated lifestyle, interests and social activities of a young audience in Mexico City. The paper has an estimated audience of 240 thousand people.

Aythaya Vineyard
Since we exclusively serve the excellent Aythaya wines from the Myanmar 1st Vineyard in Shan State, we have been called "Friends of Aythaya Wine" since July 2016.
We are sorry to inform you that our restaurant is temporarily closed. We apologise for any inconvenience or disapointment this may cause.