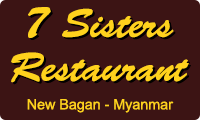 Amenities and Services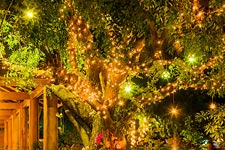 Beautiful and romantic
You will enjoy your meal in a beautiful and romantic open air restaurant, especially at night with the fairy lights shining.
Quiet place
The restaurant is situated on a quiet street only a one minute walk from the noisy and dusty main street.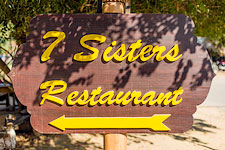 Easy to find
We have placed roadsigns in New Bagan to make it easy to find our restaurant. You can use the interactive
Google Map
of New Bagan on your smartphone to guide you along the shortest route to our restaurant.
Open the whole year
Unlike other restaurants which are closed during the rainy season, our restaurant is open the whole year round.

Vegetarian and vegan friendly
Our menu is vegetarian friendly. It includes many varied dishes for vegetarians who will enjoy a visit to our restaurant as much as anybody else. For vegans we have vegan options on request. We are recognised by HappyCow's Healthy Eating Guide as a restaurant which serves genuine vegetarian and vegan dishes.

Wine by the glass
Even if they already have wine on the menu, many restaurants in Myanmar sell it only by the bottle. We sell the excellent Aythaya wines from the Myanmar 1st Vineyard in Shan State also by the glass.
Gluten-free options
For guests with Celiac Disease we have gluten-free options on request.
Fresh ingredients
We guarantee that all our food is prepared with fresh ingredients bought by our staff at the local markets in the early morning. This gives our dishes the pure, original and distinctive flavours which is much appreciated by our guests.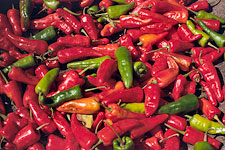 Spicy dishes
To avoid unpleasant surprises we have marked the spicy dishes on our menu.
Genuine cooking
All the dishes we serve are genuine and of high quality. We have many guests from all over the world, making it useless to adapt our dishes to the "average tourist", because such a tourist doesn't exist.

MSG-free cooking
All our dishes are prepared without adding monosodium glutamate (MSG), also known as Ajinomoto or Vetsin.
Safe water and ice cubes
We exclusively use purified drinking water to make drinks, ice cubes and for washing the food ingredients.

Free wireless internet access
We offer free, fast Wi‑Fi
 ®
(wireless internet access) as an extra service to our guests.
High quality background music
Because the majority of our guests are Western tourists we have chosen for Western pop classics as background music. In many Myanmar restaurants the music is some kind of traditional music which, with all due respect, may sound "unpleasant" to Western ears after a while.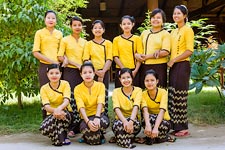 Staff
We are proud of our lovely and polite staff. Many come from small villages around Bagan and have little education. We give them the opportunity to improve themselves and let them earn an income for their families. For some of the younger staff we even pay their school fees so they can finish their school if their family can't afford it.
Furniture
All our furniture is hand made of teak. The solid chairs are really comfortable to sit on, even during long dinners.
Clean restrooms
Our clean and hygienic restrooms, separated into male and female facilities, are equipped with Western-type flush toilets, urinals and washbasins.

Outdoor smoking allowed
We believe that a visit in our restaurant should be an enjoyable experience for all our guests. That's why we ask our guests not to smoke inside the restaurant. For smokers we have outdoor tables where smoking is allowed.
Air blowers
Because of the open air style of the restaurant, we obviously do not have air conditioning. The high roof of the restaurant offers sufficient shadow to protect you from the sun and when it's very warm we place portable electric fans in the restaurant for extra comfort.
And to be honest, who wants to eat or drink indoors in New Bagan?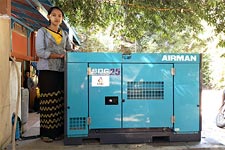 Electricity generator
We are able to continue to serve cold drinks and ice cream during prolonged power outages, which unfortunately are not uncommon in New Bagan. The electricity will then be supplied by our own electricity generator. And even more important is that we keep the fresh food ingredients like fish, meat and vegetables well chilled and our ice cream frozen to ensure food quality and safety for all our guests.
Takeaway
For your convenience we offer a takeaway service on most menu items. This takeaway service is for collection only.

We also accept Euros and US dollars as payment
If you prefer to pay in Euros or US dollars please ask for our exchange rate before you order. The banknotes have to be in pristine condition with no creases, tears, marks or stains. Please note that any change will be paid back in our national currency, the Kyat.
We are sorry to inform you that our restaurant is temporarily closed. We apologise for any inconvenience or disapointment this may cause.